"Dermeleve is the ONLY product I have used that calms my itching. I had relief within minutes."
- Martha H.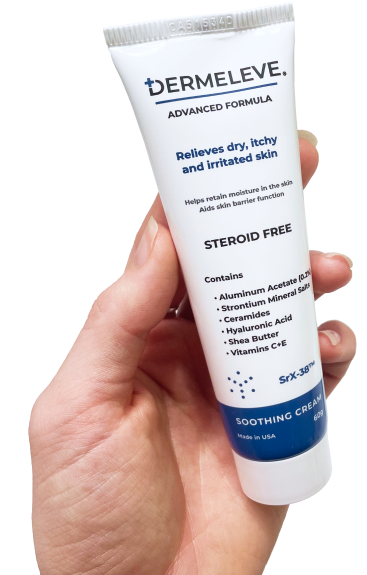 A new standard for itch relief
Dermeleve® is a proprietary topical formulation developed by dermatologists to stop itch at the source. Its SrX-38™ steroid-free formula with skin-healing ingredients has been clinically shown to absorb rapidly into the skin and significantly reduce the sensation of itch.
Apply Dermeleve® to affected areas as needed or as directed by a physician.
100% Risk-Free Money Back Guarantee

Free Shipping over $30
The science behind Dermeleve®
The itch cycle

When itching is triggered either by external stimuli or internal conditions, it triggers an urge to scratch, which in turn results in inflammatory response and skin damage.

The solution

Dermeleve® was specifically developed by dermatologists to target and reduce the sensation of itch, interrupting this vicious cycle and allowing skin to heal.
Hear from Dr. Dasilva
Dermeleve has been a game changer for me in many different itching disorders."
Itch relief, no matter the cause
The proof is in the experience
Hear what patients and doctors have to say about Dermeleve®
"I've struggled with skin conditions ever since I was a child. Dermeleve is the ONLY product I have used that calms my itching and shortens the length of my flare-ups. It has been literally life-changing"

Andy P.

"My daughter has been suffering with eczema for years. Products prescribed or over the counter were like putting a bandaid on the problem, until we discovered Dermeleve. My daughter experienced immediate relief & after a few weeks noticed her discoloration/ hyper pigmentation was lightening & her need for scratching had subsided."

Laura W.

"I have had this itchy psoriasis on my hands for years! I have tried everything, including steroid ointments, (that I don't want to use). I tried Dermeleve and immediately the itching was gone."

Shannon R.
Are you itching to learn more?
We're here to help you understand your itch.
Did you hear? Psoriasis affects more than just your skin. It can also affect your ears!  Psoriasis is a skin disease characterized by scaly patches, inflammation, itchiness, and other symptoms of the skin. With psoriasis... Read more on the Dermeleve® blog

Given that everyone's skin varies, it's only logical for all of us to employ different treatment options to maintain it. However, there are instances when your good skin care efforts might lead to some problems.... Read more on the Dermeleve® blog

Imagine you've just landed from a long-haul flight, your legs feel heavy and tired. You're not alone in this experience. It's a common problem for many travelers. It can also be a sign of venous... Read more on the Dermeleve® blog
View Blog
Trusted and referred by over 3,000 doctors
If you are a physician or medical practitioner interested in sampling Dermeleve® in your office or becoming a Dermeleve® partner or have any other questions, we're happy to get acquainted.